Dr. Josh and Dr. Taylor are the founders and lead chiropractors at True North Health Center of Colorado Springs. Dr. Josh and Dr. Taylor are passionate about helping individuals and families discover their True North. Through neurologically-based chiropractic, they are no longer defined by health barriers but able to thrive and live out their true purpose in life. Learn more below about each of your doctors and the team that keeps True North alive.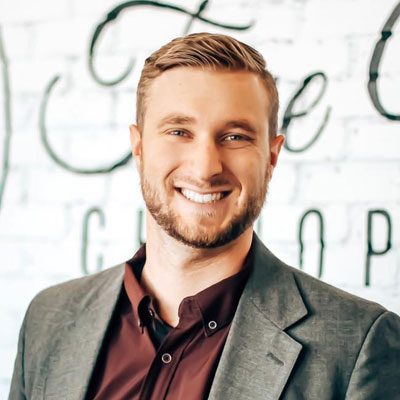 Chiropractor/Owner/Founder
Joshua Logan D.C.
Dr. Josh is a native of Denver, CO, but at the age of 7 moved to Florida where he resided for most of his childhood. While in Florida, Dr. Josh attended the University of Florida where he graduated with a Bachelor of Science degree in Exercise Physiology. He later went on to receive his Doctorate of Chiropractic at Palmer College of Chiropractic in Port Orange, FL.
Dr. Josh has attended many hours of advanced coursework in the Gonstead technique, pediatrics and maternal care in order to properly and proficiently assess and adjust infants, pregnant moms and children of all ages.
From an early age, Dr. Josh found his purpose in empowering and enriching people's lives so they could pursue their true purpose. After seeing so many of his own friends and family experience health challenges that prevented them from being able to carry out their true dreams and passions, he decided to pursue a healthcare profession.
While at the University of Florida, Dr. Josh developed pneumonia which later led to breathing issues that required him to use an inhaler and medication frequently for two years. Experiencing no relief through the medical model, Dr. Josh decided to pursue a more holistic approach.
While in chiropractic school, Dr. Josh learned about the body's ability and potential to heal itself and while receiving specific chiropractic care, he was able to come off all medications and has since been able to breathe freely with no issues. He also noticed through chiropractic care that his frequent allergies and monthly migraines had subsided as well. This kickstarted Dr. Josh's passion to serve the masses through specific chiropractic care.
Prior to moving to Colorado Springs, Dr. Josh had the amazing opportunity to work alongside Dr. Taylor in the largest Gonstead office in Birmingham, AL where he was also able to provide care for Birmingham's local professional hockey team. This experience developed his skill and passion to serve people through chiropractic in hopes to remove health barriers so they could pursue their true purpose and live out their full potential.
Chiropractor/Owner/Founder
TAYLOR LOGAN D.C.
Having the tremendous blessing of being born into a chiropractic home of both parents being chiropractors, Dr. Taylor knew from a very young age that she was called to be a chiropractor. Her chiropractic journey began as a newborn when she stopped breathing shortly after she was born. 
Her father administered a specific chiropractic adjustment that immediately helped her start breathing again. She was also able to witness first hand the incredible results that chiropractic care can have on families after seeing all of her 6 siblings thrive under consistent chiropractic care since birth. As a result, Dr. Taylor is passionate about educating and giving families and individuals of all ages the same opportunity to live a life full of true health and abundance the way God intended.
Dr. Taylor spent her four years of undergrad at Lipscomb University receiving her Bachelor of Science in Exercise Physiology, where she was also an All-Conference track athlete. Due to being under regular chiropractic care during this time, she was able to perform at higher levels and heal quickly from several injuries. Dr. Taylor then went on to receive her Doctorate of Chiropractic at Palmer College of Chiropractic in Port Orange, FL. She has attended many hours of advanced coursework in the Gonstead technique and pediatrics in order to properly and proficiently assess and adjust infants and children of all ages.
Prior to moving to Colorado Springs, Dr Taylor worked in one of the largest Gonstead offices in the entire country, Precision Chiropractic, in Birmingham Alabama. She is a member of the International Chiropractic Pediatrics Association and is also certified in the Webster technique, a technique that focuses on pregnant mothers in all stages of the pregnancy process.
Dr. Taylor is excited to help the community of Colorado Springs thrive in their passions and achieve their God-given health potential through neurologically based chiropractic care.
Her doctor had taken x-rays and proceeded to ask one simple question, "What can you find that doesn't look right?" After answering correctly, it clicked. She knew that this was her life's mission.
To begin this journey, Dr. Mollie attended Morehead State University receiving her Bachelor of Science in Exercise Physiology with a minor in Dance. While in her undergrad, she was the captain of her collegiate dance team as well as a facility supervisor, group fitness instructor and President of her Exercise Physiology club. It was through all of this that she learned the importance of movement when taking care of your body. During an internship at a chiropractic office, she was able to see first-hand how regular chiropractic care was able to further improve the body's health to get the individual to their maximum potential.
Prior to attending chiropractic school, Dr. Mollie worked as a chiropractic assistant at one of the top-rated chiropractic offices in Cincinnati, Ohio. It was there that she was able to be more hands on in the office setting learning about the behind the scenes work of what it takes to run a successful chiropractic office.
Dr. Mollie attended chiropractic school in Marietta, GA at Life University. While in school, she was introduced to the Gonstead Analysis and technique. The science-based analysis clicked automatically making her determined to pursue the technique. During school, she attended Gonstead club starting in her first quarter, became an Official Gonstead Club Officer after passing a rigorous written test followed by a 9- part Practical; comparable to the Gonstead Diplomate Test, as well as numerous Gonstead seminars which included a 100-hour course.
Prior to moving to Colorado Springs, Dr. Mollie worked in a Gonstead office in Kennesaw, GA and was lucky enough to learn more about the amazing technique from an incredible mentor. There, she saw the difference between a typical chiropractic adjustment vs an extremely specific adjustment. Seeing how much of a difference this made in the lives of the patients was a humbling experience.
Dr. Mollie is so excited to continue pursuing this path in order to assist in helping Colorado Springs find their body's full, God-given potential, and know that there is hope.
CHIROPRACTIC ASSISTANT
Kirsti Logan
Kirsti Logan was the first addition to the True North Team after Drs. Joshua and Taylor opened in 2018. Before coming to True North she graduated with a degree in Hospitality Management from the University of Central Florida.
Her favorite part about working at True North is "being a part of something bigger than me." But, when she's not working the best job in the world you can find her serving the Lord with her family.
The best advice she could give a True North newcomer is to "be your awesome self and just love on people!"
Oh, and if she were a pasta shape she'd be gnocchi because "it's technically pasta but made with potato and potatoes are awesome!"
DIRECTOR OF BRAND COMMUNICATIONS
Olivia Mason
If you don't find her snuggling the office baby, you'll find her behind the scenes working on all things digital and visual. Olivia graduated from Briar Cliff University in Sioux City, IA, where she double-majored in Graphic Design and Mass Communications, earning her BA.
Her favorite thing about her job is "bringing the visuals of healthcare to life. Some people are visual learners and to be able to make visual aids that help them understand the importance of Chiropractic is extremely rewarding."
But, if she won the lottery tomorrow, she'd open a retreat center for Human Trafficking Victims to have a safe place to connect, heal, and grow as visionary leaders.
In her off time, you can find her binge-watching Netflix, browsing shelters for her future dog, or finding new places to explore.
CHIROPRACTIC ASSISTANT
Cassidy Jones
Cassidy graduated from UCCS in Colorado Springs where she majored in Business Management with a minor in Communications.
A true native to Colorado Springs, Cassidy came to True North with a BA in Business Management from UCCS and a heart for serving people.
If you ask her preference on cats or dogs she'll tell you "Dogs! I have a little baby named Sunnie but we call her Sunnie-D!"
The most important thing she learned growing up was to "Do what others won't because that is the only way you truly stand out and hit milestones." So, it makes sense when she says that the best part of her job is "getting to see people's lives change in the most natural way possible as they reach their health goals."
When she's not at True North you can find her someplace where there's hiking, spending time with her family, and dreaming about the house that she and her brand-new husband (Ben) are currently building!
CHIROPRACTIC ASSISTANT
Paul Woodard
Paul Woodard is one of our incredible Chiropractic Assistant's at True North. Originally from Battle Creek, Michigan, Paul came to our office after graduating from Michigan State University with a Bachelor of Science in Forestry (So if you have any questions about plants, fruits, and veggies...he's your guy!)
As a former member of the United States Army, it'll come as no surprise to you when he says that his favorite part about working at True North is seeing hope and healing found in people who deemed themselves "forever lost".
When Paul isn't at True North, you can find him exploring Colorado with his sweet sweet wife, Megan, and their three kids!
You probably won't see this face much up front but you can find her playing an important role behind the scenes in our office!
Meet Pam! Pam is originally from Oklahoma but now lives here in Colorado Springs with her two teenage girls and husband, Saxton, who she met in Kindergarten!
When Pam isn't at True North you can find her visiting flea markets with her girls or singing her go-to karaoke song: "Nothing's Going to Stop Us Now!"
Her favorite part about working at True North is, "The office environment! Everyone I work with is such a joy to be around!"
Chiropractic Assistant
Katie Herdman
Katie is one of the newest additions to our True North Team! She is a true Colorado native and is originally from Buena Vista! Before coming to True North, you could find her in her prior role as a phlebotomist! Katie has a heart for serving her community and we're beyond grateful to have her on-board.
Here's a few fun facts to help you get to know her better:
Her favorite animal is a Sea Otter
She loves to travel and has been to 16 different countries!
She celebrated her 8th birthday in a rural village in Guatemala
She plays the Violin
If she could do anything in the world she would hike glaciers in Argentina with her Dad!
OFFICE HOURS
---
Monday
10:00am - 1:00pm
3:00pm - 6:00pm
---
Tuesday
3:00pm - 6:00pm
---
Wednesday
7:30am - 11:00am
---
Thursday
10:00am - 12:00pm
3:00pm - 6:00pm
---
Friday
Closed
---
Saturday
Closed